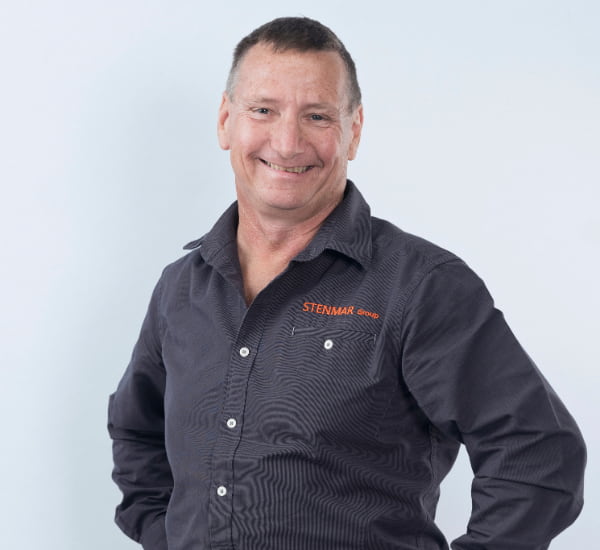 Allan Burgess works in both sales and engineering at Stenmar Group, and he draws on a lifetime of hydraulics expertise and technical know-how to fulfil both roles.
"I've been in hydraulics for about 30 years. I'm a fitter and machinist by trade, I have an engineering diploma, and I was the co-owner and director of another hydraulics firm that I was with for 19 years."
When Stenmar co-director Mark Stenhouse called Allan to see if he would be interested in joining, Allan decided to make the change. "I was a director so in one sense it seemed crazy, but I'm very happy in my role here."
Allan has now been with Stenmar for 11 years, liaising with customers both for sales and the delivery of customised, highest-quality hydraulic servicing.
"We go to a customer when they have a problem or breakdown and need hydraulic servicing, repair or optimisation. It can often be about improving reliability and equipment performance."
For Allan, one of the best things about his role is building long-term customer relationships.
"I enjoy my work, and I particularly like building a client's trust. When you have been in the game for as long as I have, you get to know everyone. Some customers came with me when I moved here, and others I've got to know since. Many are now friends, and that loyalty and trust help ensure you do everything you can to keep them out of trouble, and their hydraulic equipment up and running."
There are a few other things that keep Allan motivated. It might be enjoying time with his two grandchildren, a good catch (he's an avid fisherman) or a positive resolution for a hydraulic project.
"That's one reason why a good team makes all the difference. There's a lot of experience across the team here and good people to rely on. If I can't get to a job, I know that someone will step in and do a fantastic job."